Snaps is growing up: pictures taken 7 Nov 2014
Gramdpa Calvin with his favorite grandfilly!!!!
The baby I have waited for as long as I can remember being in horses....my world class halter baby.
Skip to Conclusions (name pending), Call name Snaps!! DOB: 17 April 2014
SIRE: Awesome Mr Conculison
DAM: See Spot Skip
Candi is growing up. She is such a happy girl. She loves all people and cookies, just like her daddy.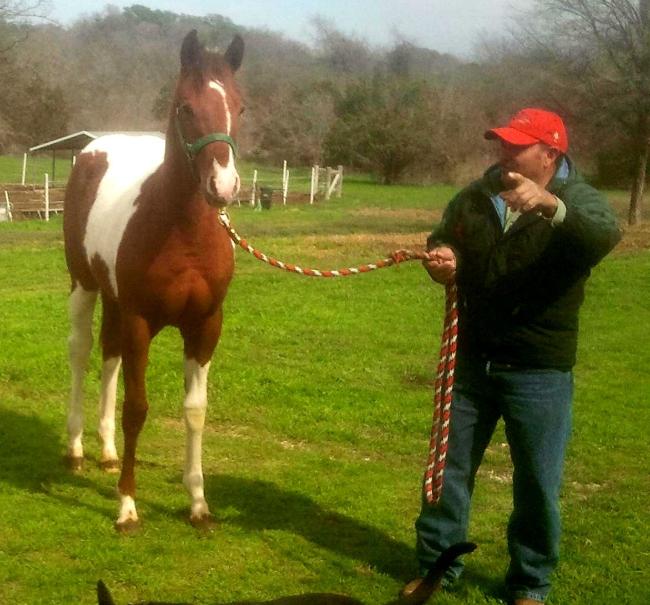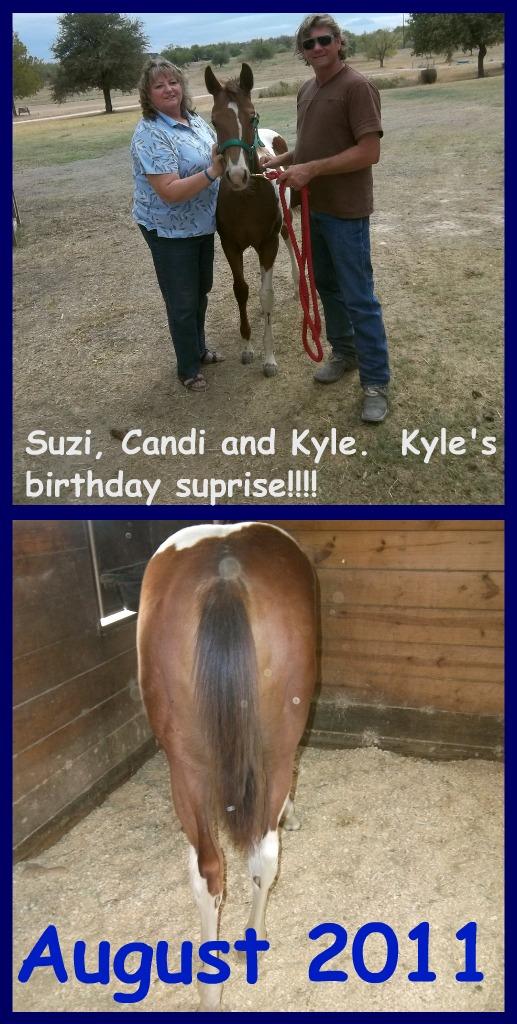 Our new arrival: Hardshiner (Candi) , APHA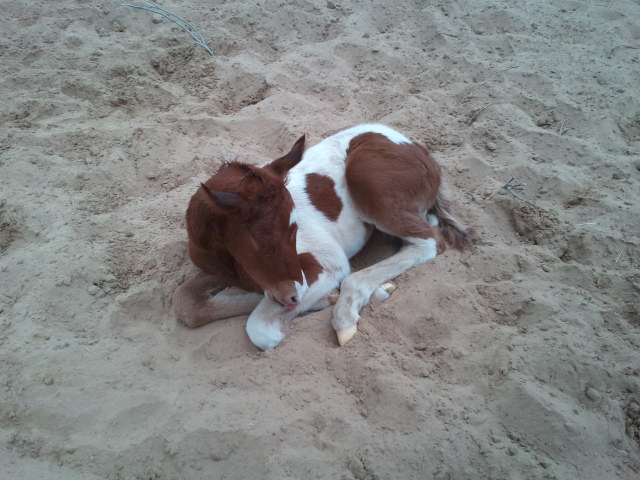 Candi at about 4 hours old, 13 Mar 2011, She is Patches' 13th foal and his 11th filly. Only two colts so far.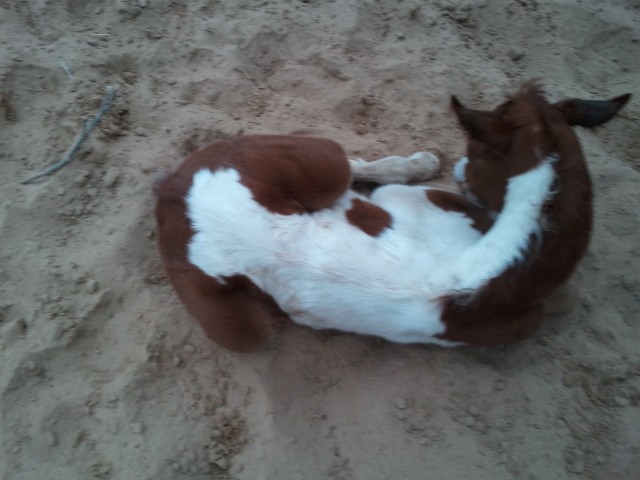 IN LOVING MEMORY
of
Pret Te Hard Times

"Fancy"
Fancy (Pret Te Hard Times, April 2010 - January 2011) , was humanely euthanized due to injuries she suffer on Thanksgiving Day, 2010.
She fought a valiant fight but just couldn't recover from the torn nerve, knee injury and she had a chipped bone in her shoulder that she suffered when she ran into a rock, tree and fence while being silly because a cold front moved in and all the horses kicked up their heels and ran every which way. The decision to put her down was due to the failure of her "good" leg to sustain the extra weight and pressure. Her "good" leg was suffering so much deterioration that the decision to put her down had to be made.
Our heart felt condolences go out to her "mommy and daddy", Jessica and David Wright. It has taken me several days to even face putting this information up here. Fancy was more than just a horse, she was a friend, child and pride and joy to Jessica and David. I have so loved the last few months of watching her grow and develop.

Fancy was defiantly her father's daughter. Patches never shows pain when he is injured. Jessica said she was so stoic that even up to the very end she never let on that she was in a great deal of pain. She was a very loving and caring little girl. She was one of those "horses" that just wasn't a "horse". She was one that truly loved her family and enjoyed everyday to the fullest.
Run free in HEAVEN sweet girl.
Hard Times Du Impress has sired 12 foals to date. He was bred for 2 years to my BLM adopted mustang mares. Out of the mustangs he sired 6 foals all of which were fillies. He had a 50% color ratio from them.
He was also bred to a quarter mare and produced a beautiful tobiano filly. He bred a Westfalen mare and produced an absolutely gorgeous stud colt (who later passed away).

He also bred an unregistered thorough bred mare and produced a wonderful smokey buckskin stud colt.

He has sired only 2 stud colts to date.

Below are Patches first foal crop out of the mustangs.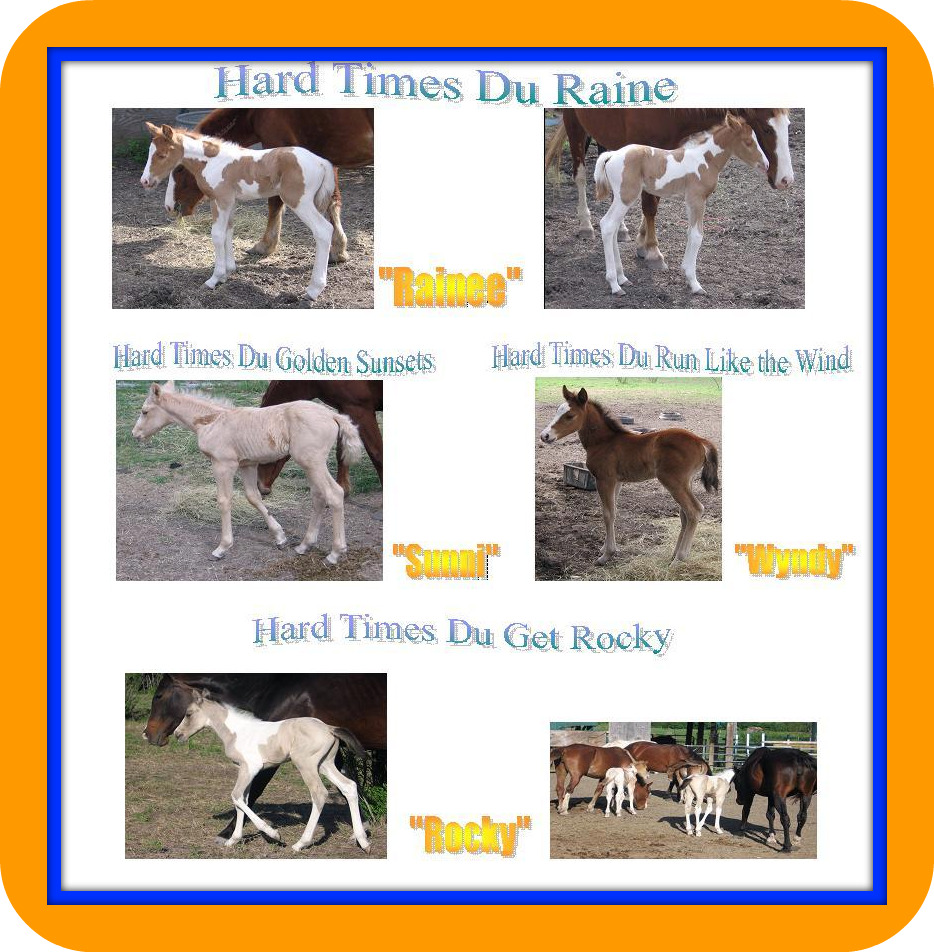 His first foal to be eligible for the APHA was born this spring, we have requested the name "Pret Te Hard Times" with a call name of Fancy. She was born on 3 April 2010 here at the ranch.

The mares owners Jessica & David Ottinger and I spent several hours in the barn waiting for the blessed event. Pret Te Cool Gal (Diva) was so comfortable with us in the next stall that she actually came to us just as she was ready to foal. We were there and able to be part of Fancy's birth. Diva was so amazing. She would nicker if we went out of the barn and pace until we came back. She had no problems with us sharing her time and the baby.
FLASH: SOLD!!!!!
Fancy is going to a new home with
Jessica and David Wright from
Gatesville, Texas!!!!!!

Look for her at the future shows.

Fancy is just as her call name suggests. She is as fancy as they come with her two high white socks on the rear and her ""reverse"" blaze. She is a very athletic filly who is all heart and give just like her parents. She is a pocket pony already. She was imprinted at birth and handled on a daily basis ever since.
She loads in a trailer, stands for her bath, is halter broke and can just about talk. She is one of the smartest babies I have had the pleasure to work with in my 25 years of raising babies.

Here she is from just the other day. It was raining so she is all muddy. Not the best pictures of her but you can see how much she has grown.

IN LOVING MEMORY
of
Hard Times Royal Puritano

"Duke"

These photos were taken when Duke was weaned at 4 1/2 months. His dam was Promise Me A Rose a German Warmblood - Westfalen out of a world famous stallion Puritano. We were able to get Promise on a breeding lease. See the top right photo of the collage below.
This is the first time he had ever had a halter on and handled with the exception of imprinting at birth. Promise would not let you anywhere near Duke and would run off with him the minute she saw you coming so we didn't even attempt to get up to him because we didn't want him to learn to run from us.

Amy put him in a stall and really just walked up to him and put the halter on and started scratching on him and he was giving kissed within just a minute or two. She took him out in the paddock and started walking around and he just went right with her like he had been doing it all his life.
Duke was a extremely tall colt. Amy is 5'11" and Duke's wither was already as high on her as our other colts that were 7 months old.

Unfortunately, Duke's life was cut way to short. He got collic and died about 2 months after these photos were taken. We were all just heart broken because he was an amazing colt. He was smart and loving. He was going to be an amazing horse.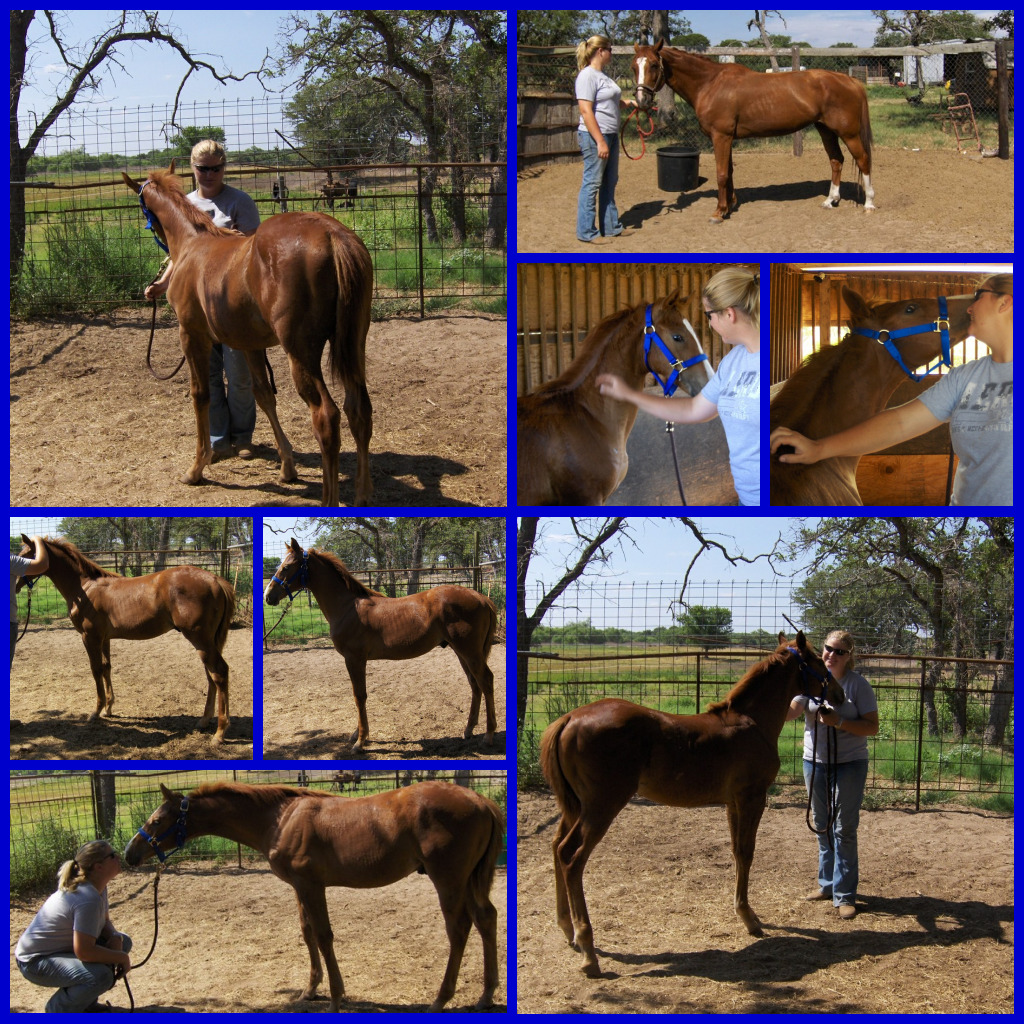 Below is Duke's maternal grandsire. The world famous Puritano. We feel Duke had his grandsire's stature and was going to be a very amazing horse.