The long wait is over: Miss Kitty (A Starry Night) has delivered a goregous black & white tobiano stud colt...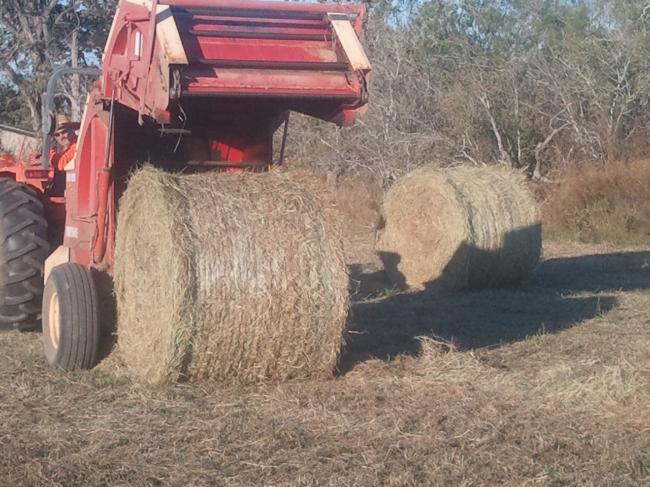 NEWS FLASH: Jake has baled his first hay with his tractor, rake and baler......it is so exciting to have the hay harvested by Jake with his own equipment....

NEWS FLASH: We are very excited to announce the joining of our snake business, Hard Times Herps with Oddball Serpents. The new partnership venture, LEGACY HERPS, with Brittney & Oscar Duran, Jr. . We now have a collection of over 100 snakes, including BALL PYTHONS, BURMESE PYTHONS, several varieties of RATTLESNAKES and OTHER VARITIES OF SNAKES and OTHER CRITTERS. Please go to legacyherps.com to check it out.

See: For Sale Page for horses currently for SALE!!!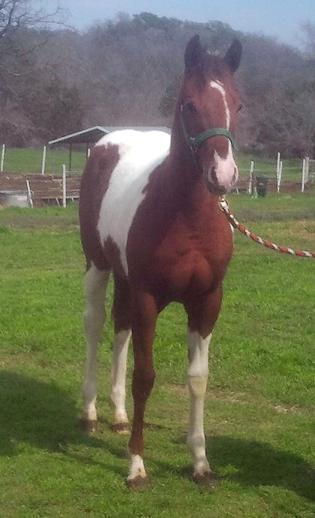 Our latest edition to the family!!!!!! Princess had her calf.....a beautiful heifer....a blonde just like her mamma......we called her Hershi because she was the color of mocha chocolate but now she has turned blonde like mamma, so I guess we need a new name for her.....I think Honey!!!!!!!!!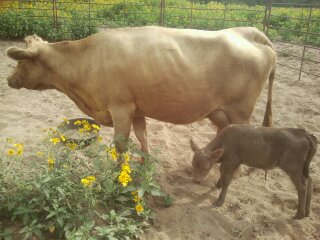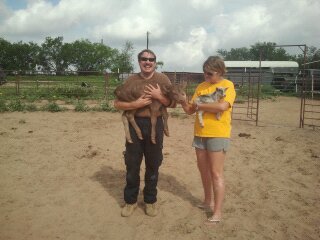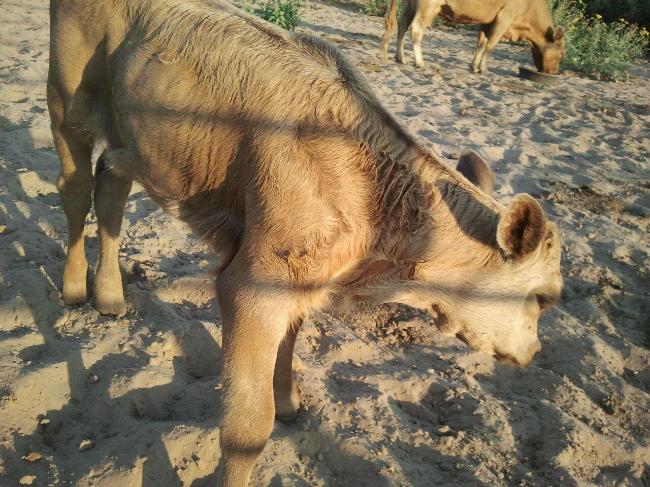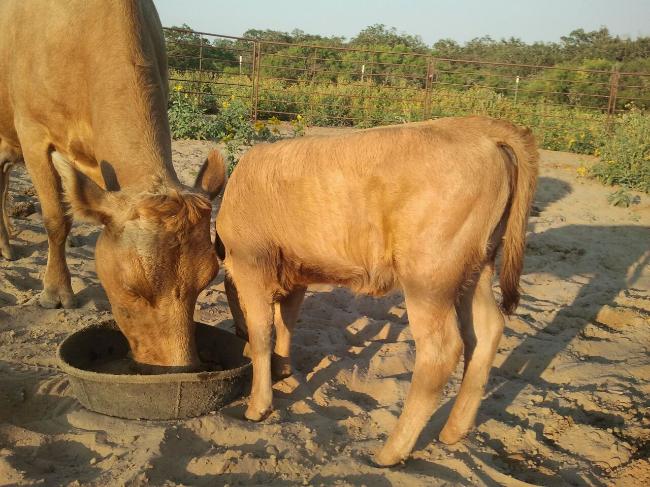 We are go excited to announce the newest addition to our expanding family. :

Derrick's Princess Reg # 20680

DOB 6/26/2008 Will be 4 next month

Sire: JL Kahn (3 times Houston Livestock Show and Rodeo Grand Champion) Reg # 16364

Dam: J&R Dream Bambi Reg # 18063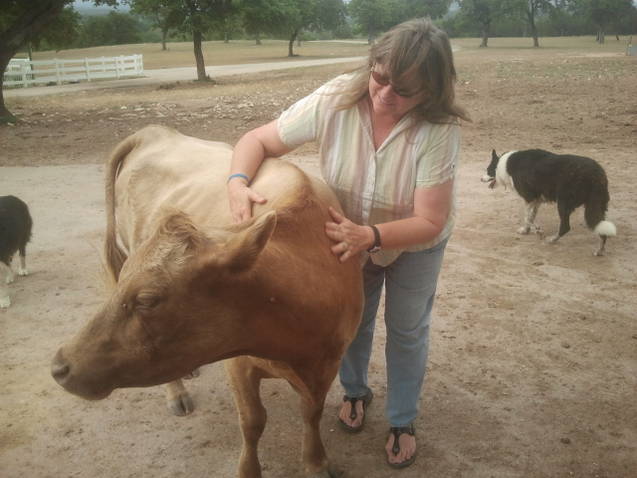 New Photos of our wonderful new HOME. See Building Our Dream Home page!!!!!!!!!!!!!!!!!!!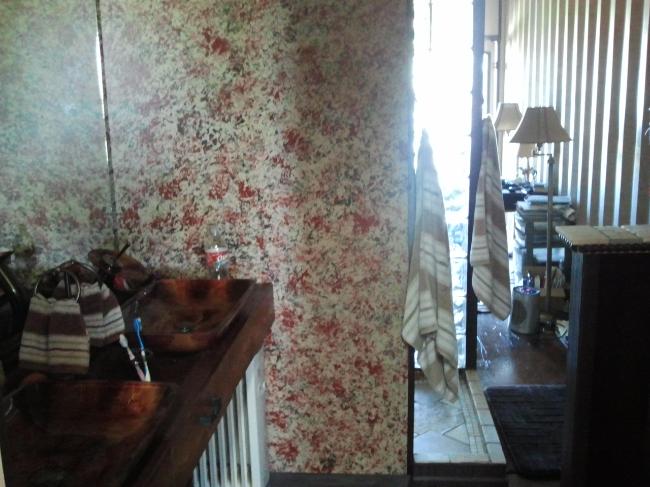 Presenting: Amy's Barnyard Critters and Crafts see webpage
The house is coming along... getting closer everyday....see page for updated photos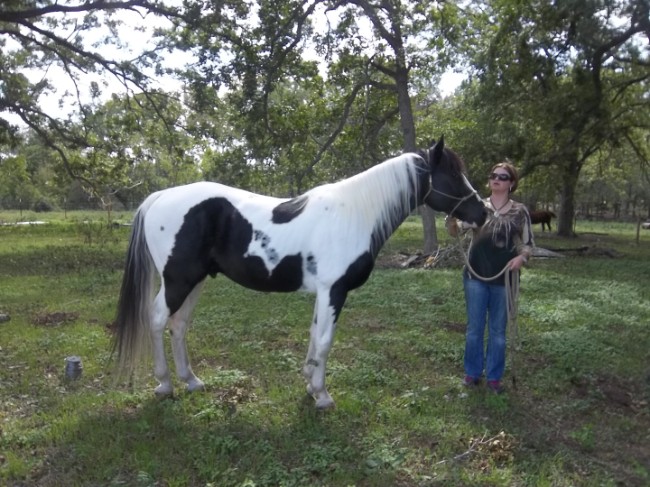 Patches (Hard Times Du Impress) and Kyle Schurig, made their way again to the winners circle and captured the Open Reserve World Championship Title at the 2011 World Championship Paint Show. Once again, Patches and Kyle rocked the place. They scored a 215.5. Winning ride was a 217.

News Flash!!!!
Patches (Hard Times Du Impress) and Amber Towers (his new mommie) captured the Novice Amatuer Reserve World Championship Title at the 2011 World Championship Paint Show. Amber did an amazing job riding Patches and they scored a 203.5. The winning score was a 205.

Congratulations!!!! Amber & Patches, I knew you would make a spectacular team.....

Love is in the Air!!! All the wonderful photos courtesy of Sherman!! Thank you - Son.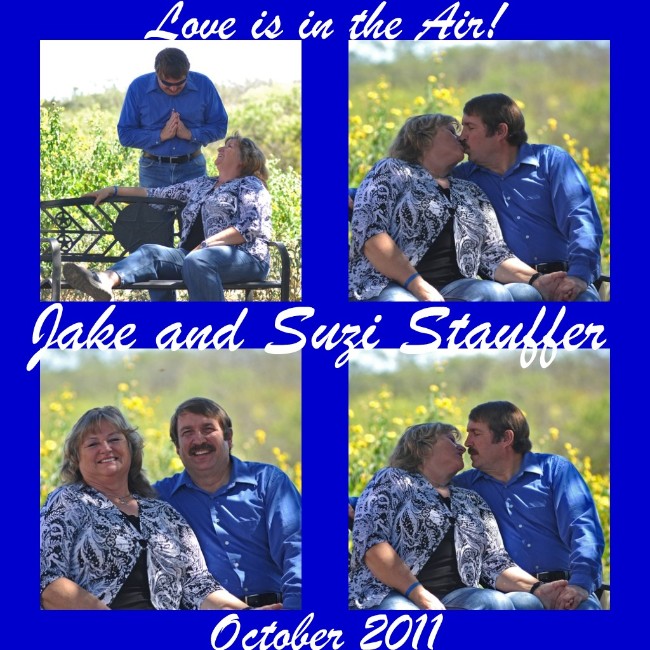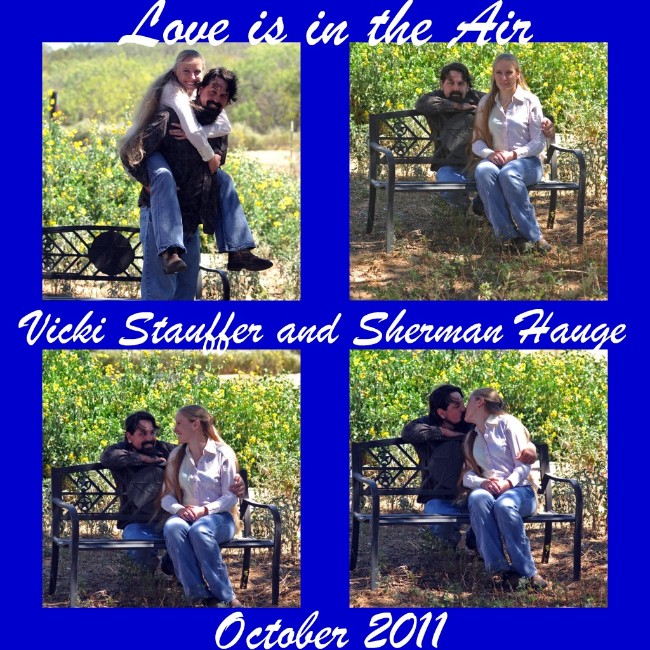 The tile for the shower floor... It will shine more when the sealer is put on it. Still expermenting with the pattern.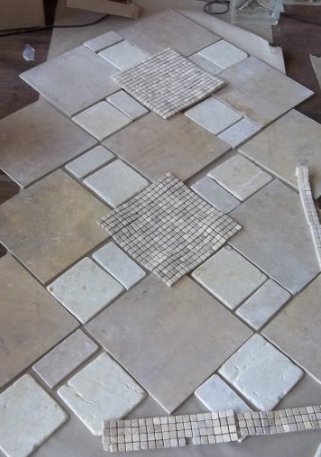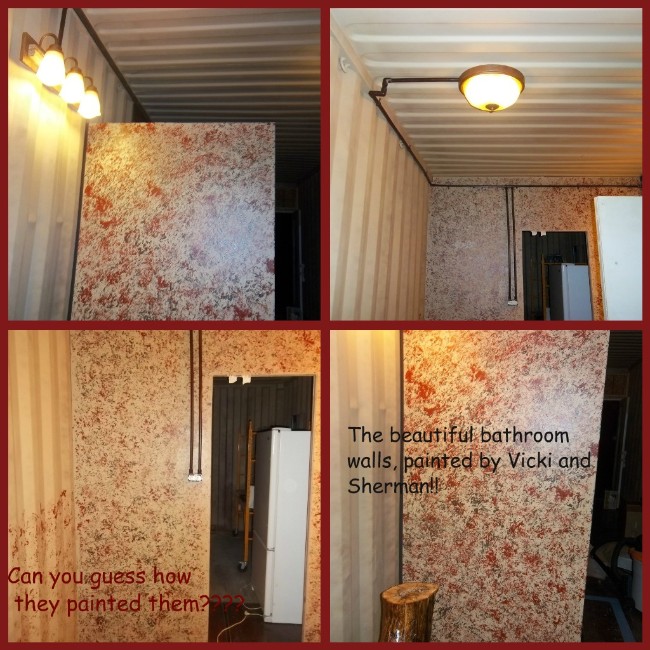 The old oak stump that we transformed into a beautiful work of art!!!!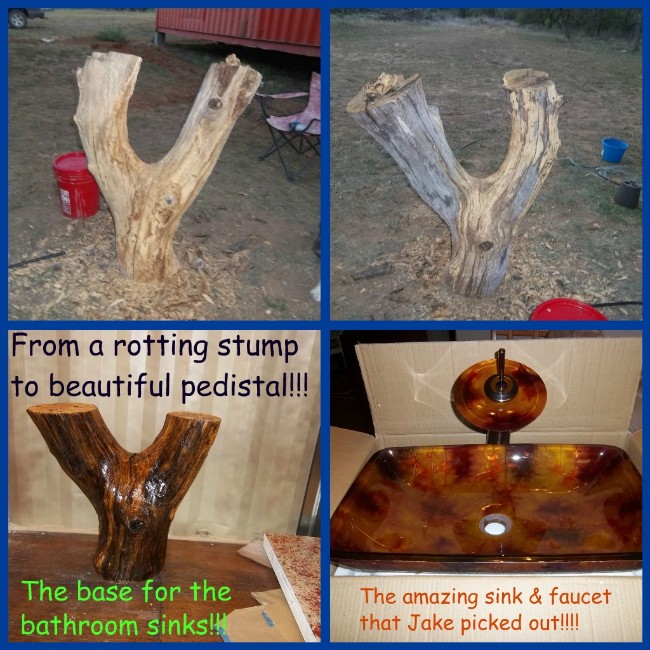 Former Home of: Hard Times Du Impress (Patches)(yes, you are reading this correctly.

The walls are Faux painted with dark brown under tan.....so amazing....and the shining finished floors. Now, the electrical work is next. Getting the plug ins and the lights.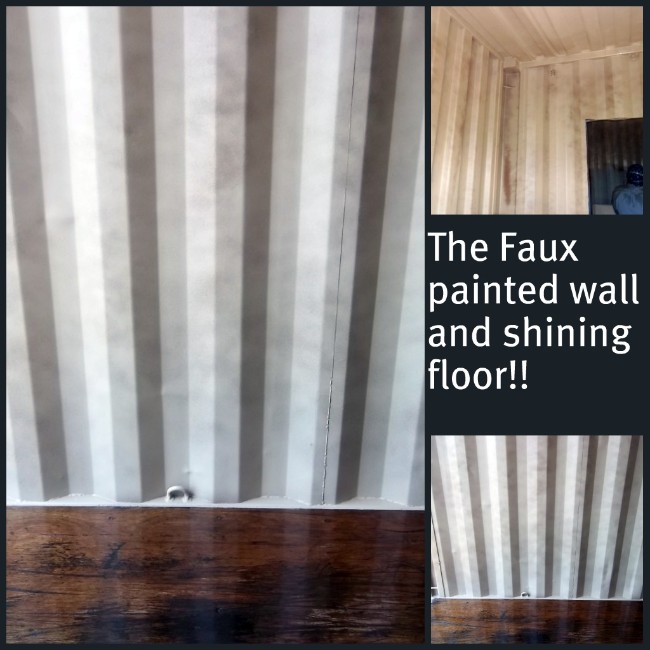 Captain Victoria Susan Stauffer and Amy Michelle Stauffer 26 April 2011, Change of Command Ceremony. Vicki assumed command of the Headquarter Company, OTC, Fort Hood Texas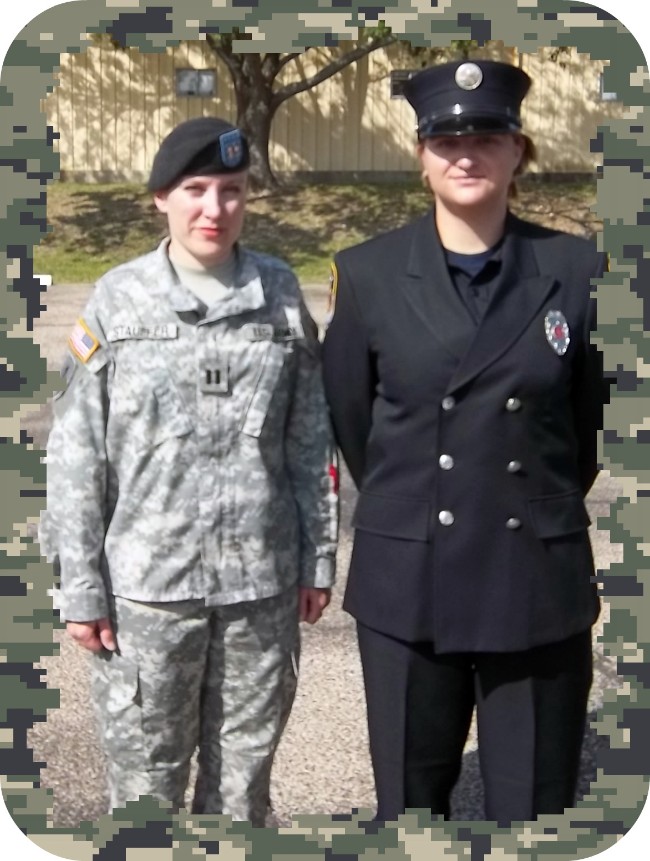 The doors are cut, the closet wall cut, the master bedroom is taking shape...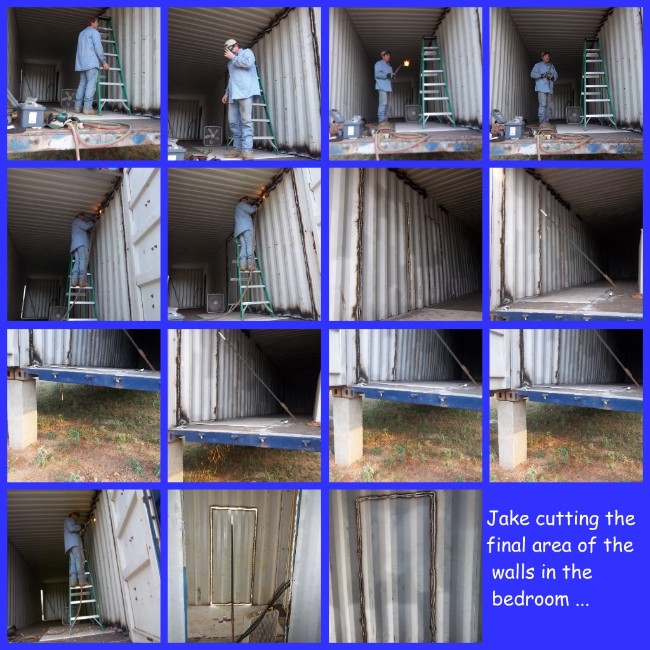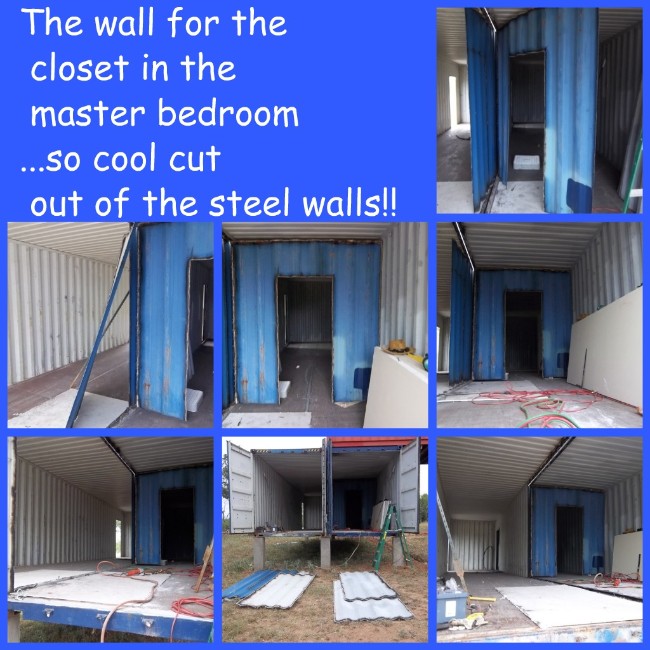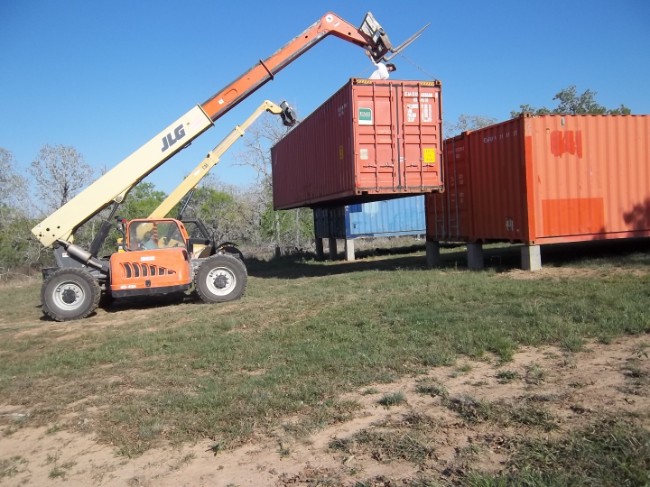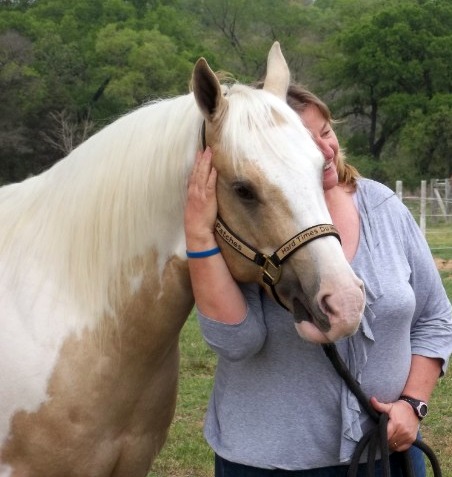 My last few minutes as Patches' mommie. Now, Amber gets to be mommie #2....I look forward to going to watch Amber compete with Patches at the Pinto and Paints worlds this summer.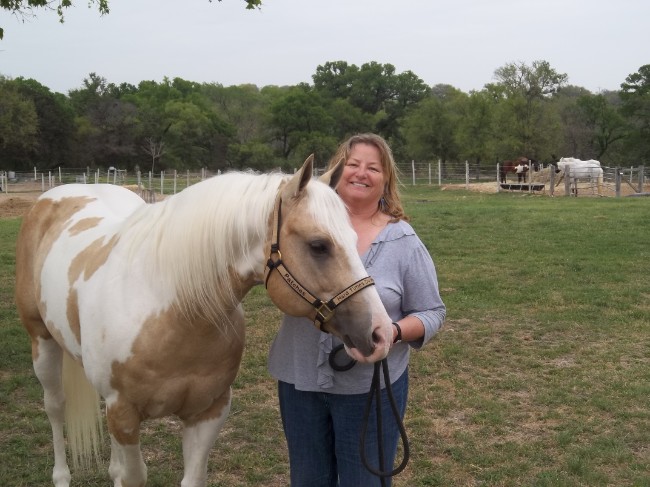 It is with such "joy" that Hard Times Ranch announces. the sale of our beloved Patches . I know that sounds absolutely crazy however, for some time now I have been considering retiring from the horse business due to many reasons. The most important being previous injuries are now causing me a great deal of pain and I just can't afford to get injured again. Turning 58, was an eye opening event in my life. It made me realize I can retire in just 4 more years from work (yeah) .

Also, of utmost importance it was the old saying, "the right person with the right $$ offer at the exact right time". Patches is now the son of a good friend of mine....Amber Towers.... Amber plans to keep Patches at Kyle's barn and show him in the reining.... Amber has ridden him on several occasions and gotten along wonderful with him.
She is so excited about owning him and I am thrilled that she will give him the same love and attention that we did.
CONGRATULATIONS AMBER!!! I KNOW HE IS IN YOUR WONDERFUL CARE AND HE LOVES YOU ALREADY.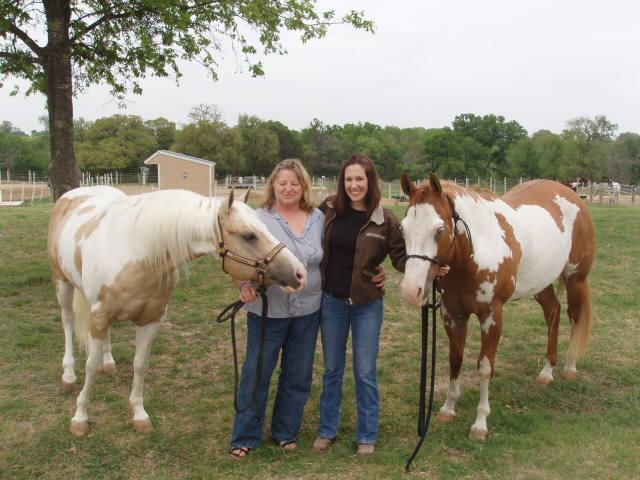 Shiners Glory and Hardtimesshiningspark (Candi) (name pending) 18 Mar 2011, 5 days old
Hard Times Shining Sparks (Candi)(pending) the newest addition to the family, 13 Mar 2011, around 7:00 am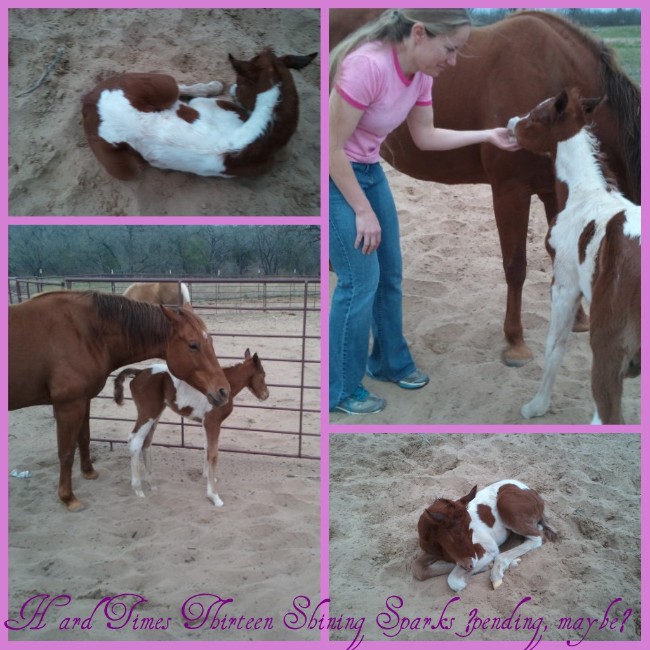 We had visitors the other day: Kainah, Hannah, Rebecca, Levi and Sherry Williams. I met Kainah through her grandmother, Paula Cates from church. See Family Friends page for details.......

What a thrill it was to watch Kyle show Patches again. TRHA Show in WACO on Jan 28, 2011. Patches placed 6th out of 40 , The team was just a little rusty after not showing together since Jun 2010. They scored a 70 1/2.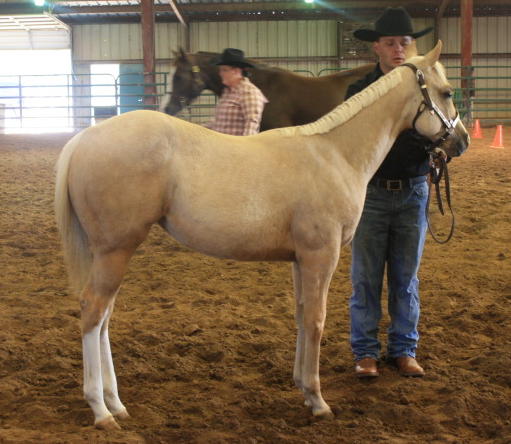 NEWS: This is the hardest news information I have ever had to post, Fancy (Pret Te Hard Times, April 2010 - January 2011) , was humanely euthanized due to injuries she suffer on Thanksgiving Day, 2010.

See FOAL PAGE for details

NEWS FLASH: Kelly Hale has decided to let me have Patches back due to him having younger horses he has commitments to show . Kelly has had Patches last year and did amazing with him. Now, I am overjoyed that Patches will be back in the family. I never stopped thinking of Patches as my baby.

Thank you Kelly for allowing the boy to come home. Well home is a loose sense of the word because:

PATCHES is going to be shown once again by Kyle Schurig (his second home) at some future shows...it will be good to have Kyle show Patches again...... now the training bills start again....yuk....lol....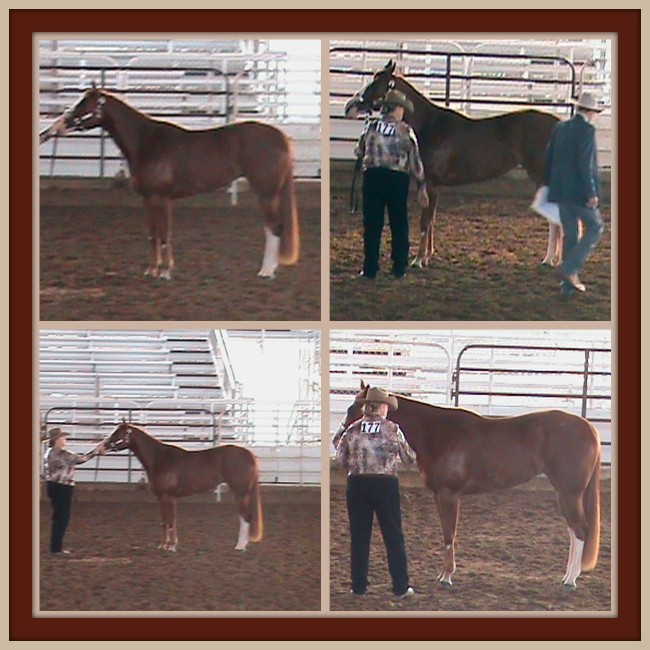 My very first time to show a horse.....See Spot Skip - Stitches..... we earned 2 Amateur Halter Points in the Pinto Show. Also earned 5 Halter Points in the All Breed Show.
Suzi, Cathy and Charlie Sassor (along with Stitches) went to the South West Texas Pinto and All Breed Show today.....23 Oct 2010....we had a wonderful day, Amy couldn't be there because she had to work....ah....This was my first time to show a horse...what a great day.
Kathy earned 3 Open Halter Points with Stitches.

News Flash: Amy showed See Spot Skip (Stitches) and Roylena Who (Buttons) at her very first horse show. She showed at the AAYHA show in Seguin on 16 Oct 2010. She was 2nd in the Halter Mare class and earned 4 Open Halter with Stitches. She placed 5th out of 10 in the Walk Trot Class with Buttons and won 6 points. She didn't place in the reining classes.
We had a wonderful day at the show.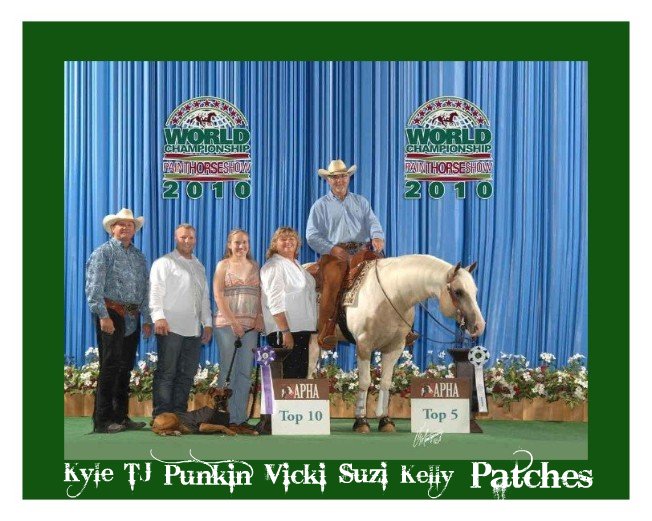 News Flash:

Kelly Hale and Patches
won

the Amateur Reserve World Championship

18 Jun 2010
Pinto World Championship Show!!!!
Kyle and Patches
at the

Pinto World Championship Show in 2008.

Reserve World Champion - Senior Reining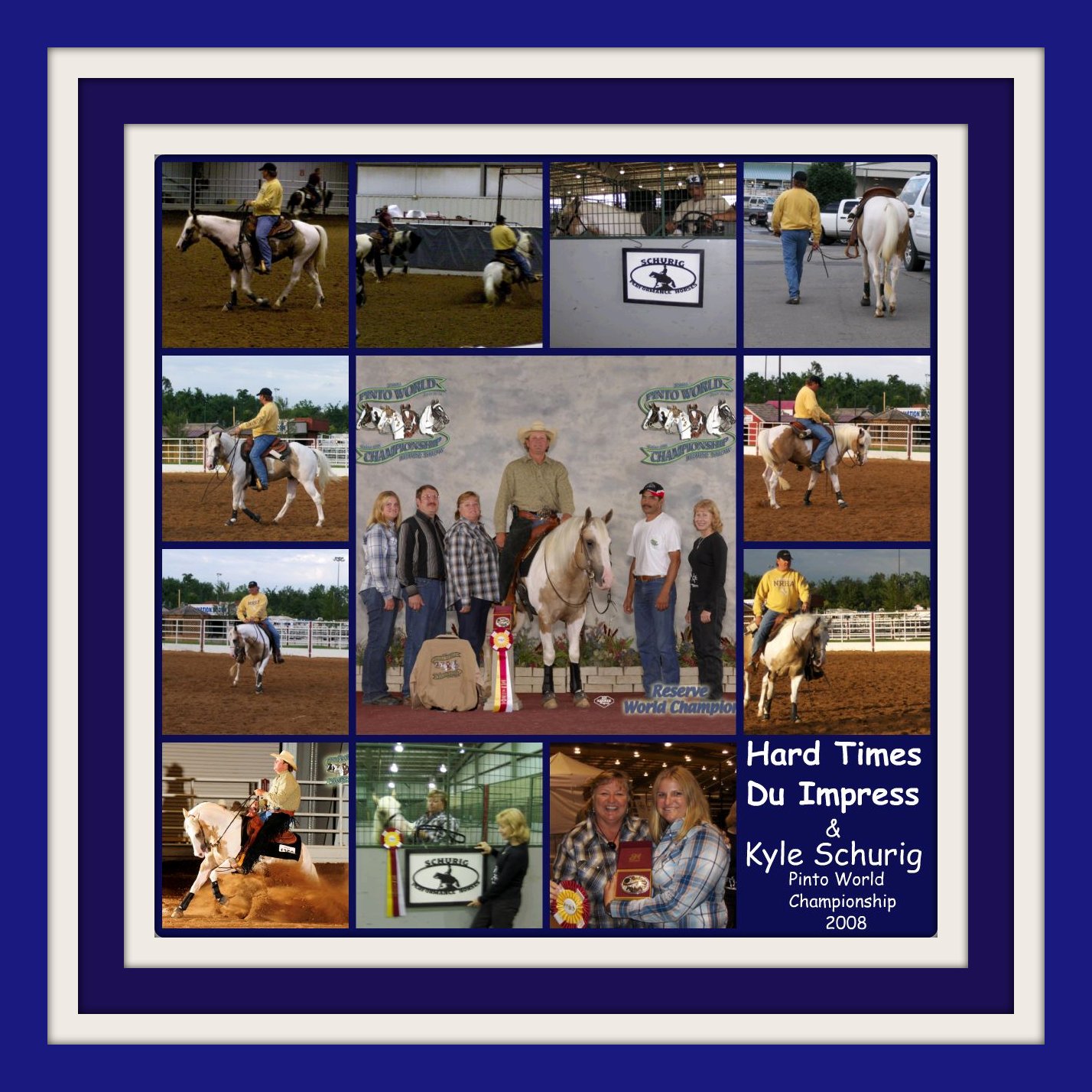 This was the first time we have had a horse we owned show at the Pinto World Show. We were so excited. We managed to come home on R&R from Iraq for the show. Kyle and Patches winning the Reserve World Championship on their first outing was just amazing. We were so happy and proud of them that we couldn't sleep that night.
This is the actual home video that our daughter Amy filmed.

Introduction:

Owners: Jake & Suzi Stauffer and our two wonderful daughters: Vicki and Amy . It has always been our dream to own a large acreage of land. After 30 years of marriage we finally found the property of our dreams. We purchased 75 wonderful acres in Seguin, Texas. It is such a blessing to have the property.

A few years ago, we had a colt born when we were having a pretty hard time with life. Just everything was going wrong with the horses and my husband chimed in that we should call the colt "Hard Times" because of it. Thus we named the colt: "Hard Times Ilusion" which lead to us naming our dream property, "Hard Times Ranch".
The ranch is located in South Central Texas in the beautiful Green Valley Area. Half of the ranch has very mature oak trees with the ever popular mesquites thrown in and the other half is coastal hay fields.

We have a small band of reining bred broodmares and a couple of show horses in training with Kyle Schurig, Mancito Ranch, Buda TX.
As you may have noticed Patches has excelled in reining. Patches has the best of both the "Halter and Performance" Worlds. His sire is both and his dam is working bred with Mr San Peppy in her line. (click:
http://www.allbreedpedigree.com)
Please see the stallion page for Patches' story.
http://www.hardtimesranch.com/stallion.php
CONTACT INFORMATION:
Jake and Suzi Stauffer
Hard Times Ranch
590 Boyd Road
Seguin, TX 78155
Home: 210-607-4869
Cell: Suzi 830-822-2007

email: hardtimesranch@yahoo.com